Virtual sent me few of their eyeshadows lately. Look how adorable those little letters are <3
Virtual przysłali mi ostatnio kilka cieni do recenzji. Te wytłoczone literki są urocze <3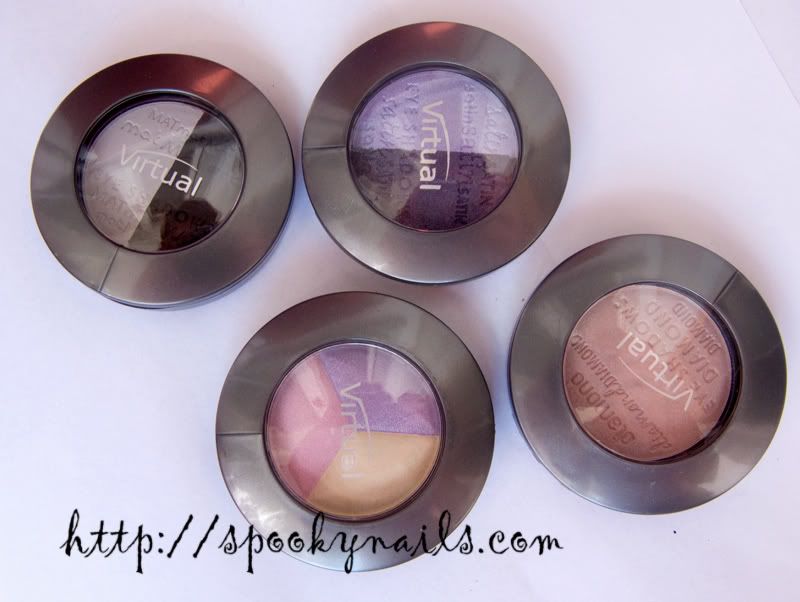 Satin Duo 060
My favourite from the bunch. They are very soft and smooth. Eyeshadows are well pigmented and looks great on the eye. Formula is a little bit creamy. On the eyeshadow base + NYX Milk they lasted for the whole day (8 am – 11 pm). Lighter color looks like silver on the hand, but on the eye it is definetely a light purple.
Moje ulubione cienie z zestawu. Są miękkie i nakłada się je równomiernie. Są dobrze napigmentowane i świetnie wyglądają na oku. Mają lekko kremową formułę. Na bazie i NYX Milk trzymały się od 8 rano do 23. Jaśniejszy kolor na ręce wygląda na srebrny ale na oku to zdecydowanie jasny fiolet.
Mat Duo #52
My second favourite. Set of 2 matte eyeshadows – light grey and almost black (or maybe it is black? ;) ). Lighter color looks great under the brows, dark looks great on the crease. They also had nice pigmentation.
Mój drugi ulubieniec – zestaw 2 matowych cieni. Jasny szary wygląda świetnie pod brwiami, prawie czarny (a może to już czarny? ;) ) świetnie nadaje się na załamanie powieki. Również są dobrze napigmentowane.
Diamond Mono #043
I didn't use this eyeshadow alone, for me it is more an eyeshadow for the under brow area. It has some sparkles but they aren't very noticeable on the eye. It is a beige eyeshadow, on the swatch photo it looks weird. Its finish is something like Inglot sparks – matte + some sparkly particles. I like it too.
Nie nakładałam samodzielnie tego cienia, dla mnie to bardziej rozświetlacz pod brwi. Ma trochę drobinek, ale na oku ich nie widać. Mimo tego co widać na swatchu, to typowy beż – coś mi nie wyszło zdjęcie. Wykończenie w sumie jest podobne do Inglotowskich sparków.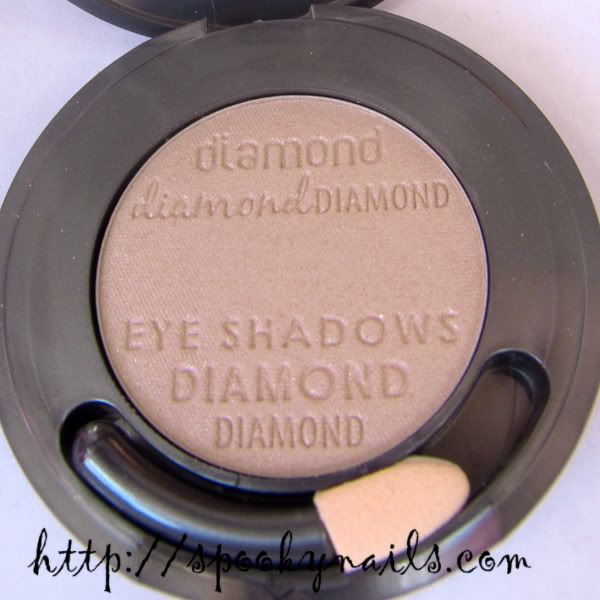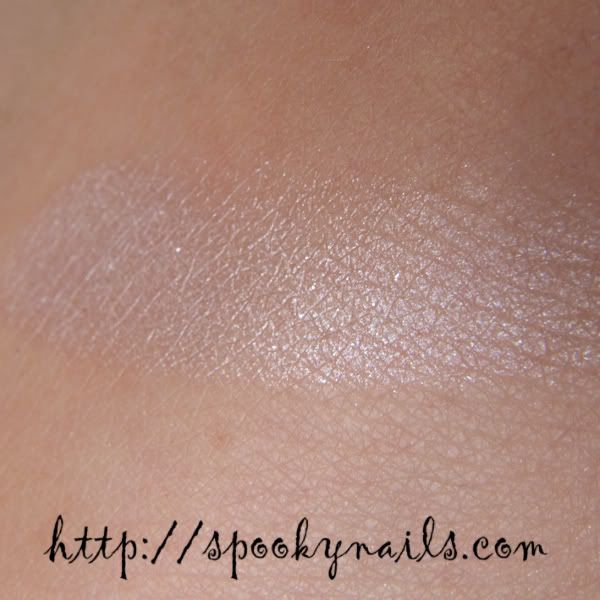 Satin Trio 066
On the hand they look different, but on the eye they look the same. I don't like this trio, it is too shiny to be a highlighter. And they don't have a good pigmentation to wear it on the eyelid. I don't like them at all.
Na dłoni wyglądają jakby się różniły, ale na oku wyglądają tak samo. Nie lubię tego setu, są za błyszczące żeby używać ich pod brwi. Na nakładanie ich na powiece mają za słaby pigment. Kompletnie mi nie podeszły.
I made a makeup using purple and grey duos, it was little bit more intense in the reality but I took this picture when weather was awful :) I used also Virtual Full Screen Size mascara.
Zrobiłam makijaż używając fioletowego i szarego duo, w rzeczywistości był ciut intensywniejszy ale jak robiłam to zdjęcie była koszmarna pogoda :) Sorki za moje niewyskubane brwi, zapomniałam o nich :P Tusz to maskara Virtual Full Screen Size.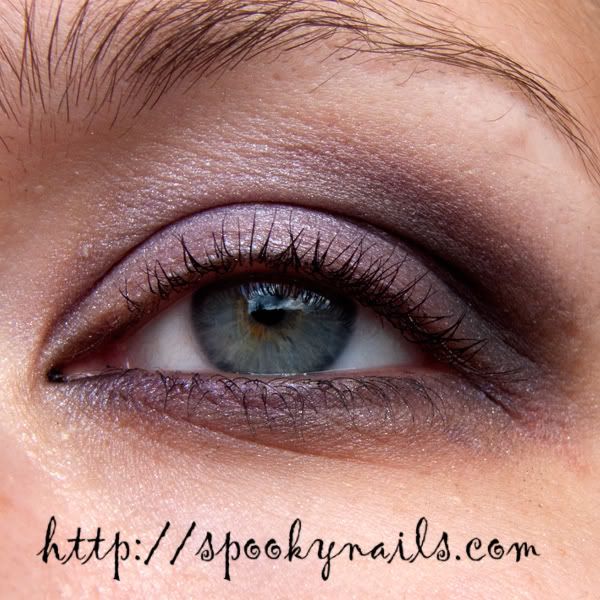 Conclusion? Most of them are very good, only the satin trio is bad. I really liked the matte and satin duo, maybe I will look for some other colors :)
Wniosek? Większość z nich jest bardzo dobra, tylko trójka satynowa jest zła. Bardzo mi odpowiada matowe i satynowe duo, może poszukam innych kolorów :)