Note – Vipera is a brand from Poland, they are selling their products in few other countries, but mostly in Poland.
Some time ago I received a Vipera Nail Care Silk Coat base to review. According to the label/brand/etc this product moisturises dry nails, protects, makes them more flexible and smooth. If your nails are in a poor condition, this is for you. After a month of using it, I believe that I can write a review at last. From what you can get from the description of the product (stain protection, filling ridges, using before painting) it seems to be more of a base than nail conditioner. I didn't notice that my nails got any better…but they've been in a poor condition lately. I'm feeling a bit weak these days, my hair's coming out a lot, so I'm aware that any nail care product won't help me and only real nutrition might be useful. But, this is a cool base actually! I had quite a lot o them in my nail polish career, like China Glaze Strong Adhesion Base Coat (doesn't work for me), Orly Top2Bottom and a few more. This one is better than others. Nail polishes won't last long on my nails…it can chip a lot even after one day. This time I painted my nails with 2 coats of Piggy Polish Grasshopper. On some nails I had 3 coats of glitters (OPI Show It And Glow It + OPI Bring On The Bling ) on other nails glitter Here Comes Trouble by Orly. I had my mani done on Tuesday's night, and on Sunday's night, after a couple of days of packing orders at work, opening A LOT of beer cans and doing everything you can do when you're away I had only one small chip and one bigger. On the rest I had only small tipwear. And really, on my nails nothing lasts long. Here's the proof (note that my nails are chipping):
Jakiś czas temu dostałam do recenzji odżywko-bazę Vipera Nail Care Silk Coat (dopiski na opakowaniu – Jedwabna osłona płytek Med 2). Wg. producenta produkt nawilża suche paznokcie, osłania, uelastycznia i wygładza. Przeznaczona jest dla paznokci kruchych i łamliwych (ale nie rozdwajających! Do takich są inne produkty Vipera). Po chyba prawie miesiącu używania pod lakier moge wyrazić swoją opinię :) Z tego co pisze producent (ochrona przed przebarwieniami, wygładzanie nierówności i pełnienie roli podkładu pod lakier) jest to bardziej baza niż odżywka. Nie zauważyłam aby mi poprawiły się paznokcie, jednakże mam je ostatnio po prostu w kiepskim stanie. Jestem osłabiona i nawet widzę, że włosy mi mocniej wypadają więc wiem, że żadna odżywka mi na nie nie pomoże. Pomóc może mi tylko odżywienie organizmu od środka. Ale ale! Jaka to fajna baza! Miałam kilka baz w lakierowej karierze, w tym China Glaze Strong Adhesion Base Coat (nie sprawdza się u mnie), Orly Top2Bottom i kilka innych. Ta przebija je wszystkie. Na moich paznokciach lakier trzyma się bardzo krótko. Po jednym dniu potrafię mieć spore odpryski. Tym razem pomalowałam paznokcie bazą, nałożyłam 2 warstwy lakieru Piggy Polish Grasshopper. Na niektórych paznokciach miałam jeszcze 3 warstwy brokatów OPI (Show It And Glow It + Bring On The Bling), na innych brokat Orly Here Comes Trouble. Paznokcie malowałam we wtorek wieczorem a w niedzielę wieczorem, po kilku dniach zawierających pakowanie paczek w pracy, otworzenie DUŻEJ ilości puszek z piwem i robienie wszystkiego co się robi na wyjazdach miałam jeden większy i drugi mniejszy odprysk. Reszta paznokci była tylko starta. A mi naprawdę lakiery się nie trzymają.Oto dowód, można zobaczyć, że mam spory już odrost (podkreślam, że rozdwajają mi się paznokcie):
Left hand / Lewa dłoń
Jestem leworęczna, paznokieć palca wskazującego służył do otwierania piwa :P
I'm left handed, pointer nail was a beer opener :P
Right hand / Prawa dłoń
Bez kciuka bo na nim miałam NfuOh #56 bez bazy i wytrzymał 2 dni.
Without a thumb, because I had a NfuOh #56 on it without any based and it chipped after 2 days.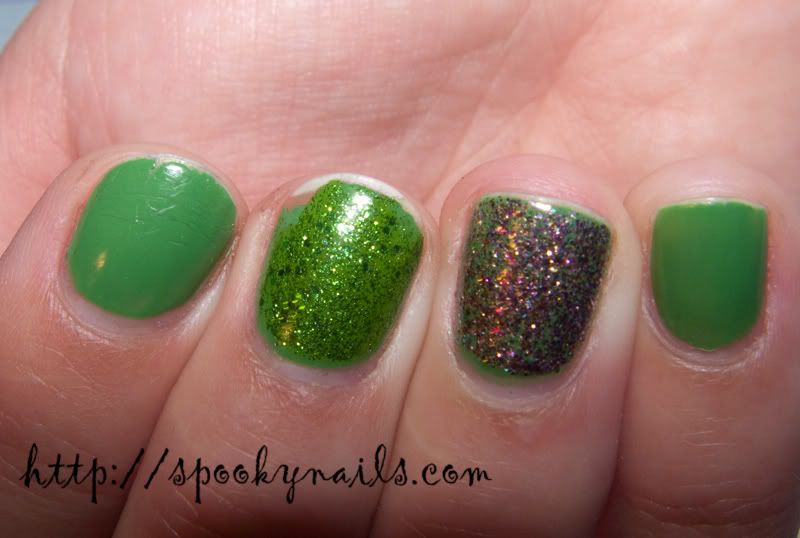 For me it's a great result. What is more, the base smoothes my nails and conceals vertical ridges. It's also quite cheap so I really recommend this product. It also protects from staining, but when you use suspicious nail polishes it's better to apply two coats of base, like in case of any base anyway.
Jak dla mnie to naprawdę niezły wynik. Do tego baza wygładza paznokcie i ukrywa pionowe bruzdy. I kosztuje grosze, naprawdę polecam ten produkt. Chroni też przyzwoicie przed przebarwieniami, pod mocno barwiące lakiery warto dać jednak 2 warstwy, jak przy każdej bazie zresztą.