I got a this palette from KKCenterHK for a review and I'm totally in love with it! You can find it here. Pallete has a black, shiny case with a mirror and two 2-sided eyeshadow sponge applicators. Case is quite thick and solid, like in Manly 120 palette.
Otrzymałam tę paletę od KKCenterHK, abym ją zrecenzowała i jestem totalnie w niej zakochana! Paletę znajdziecie tutaj. Paletka ma czarne, błyszczące opakowanie z lusterkiem i dwoma dwustronnymi gabkowymi aplikatorami. Opakowanie jest dość grube i solidne, jak w palecie Manly 120 kolorów.
Eyeshadows in the palette looks like that, unfortunatelly one eyeshadow didn't make it :-(
Cienie w paletce wyglądają tak, niestety jeden cień nie dał rady w transporcie :-(
Colors are very bright and super pigmented. I own a Manly 120 palette (this first edition of it) but I personally don't like it. This palette is way better – it has a better pigmentation, it is way easier to work with it and it looks better on the eyelids. The most important is, that eyeshadows doesn't look like a coloured flour :P. Most of them are matte, only few have some sparkles, silver has a pearl finish. Here are the swatches, without any base:
Kolory są bardzo intensywne i bardzo dobrze napigmentowane. Mam paletę 120 kolorów Manly (tę pierwszą, która była w sprzedaży) ale osobiście nie lubię jej. Ta paleta jest o wiele lepsza, cienie są bardziej napigmentowane, o wiele łatwiej się je nakłada i wyglądają lepiej. No i nie wyglądają jak kolorowa mąka na powiekach :P. Większość z nich to maty, jedynie niektóre z nich mają małą ilość drobinek, srebrny jest perłowy. Oto zdjęcia kolorów, bez żadnej bazy:
Look how pimgneted they are! I made some makeups using this palette. Unfortunatelly weather was not the best, I can't make good photos of makeup (I don't know how to do that, they was way more intense in real life) and my eyeshadow brushes are almost dead so they are not perfect, sorry for that. I used in all makeups Too Faced Shadow Insurance and a Inglot Duraline in the first one (for the blue line).
Patrzcie jakie są napigmentowane! Zrobiłam kilka makijaży z tą paletą. Niestety pogoda nie była najlepsza, nie umiem do tego robić zdjęć makijaży (no nie wiem jak to robić, żeby wyglądały jak w rzeczywistości, na żywo były o wiele mocniejsze) i moje pędzle nadają się do wyrzucenia, więc makijaże nie są idealne, przepraszam za to. Do wszystkich makijaży użyłam bazy Too Faced Shadow Insurance i do pierwszego Inglot Duraline (niebieska kreska).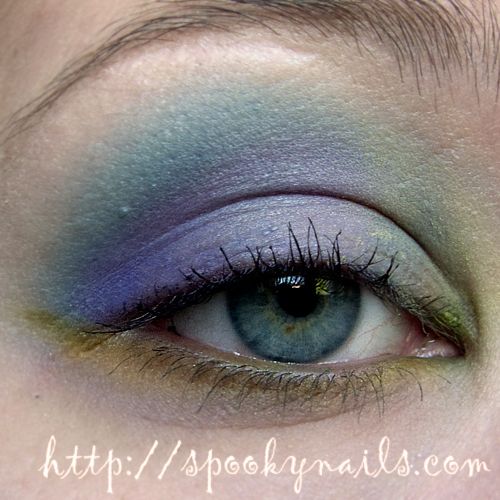 If you are looking for a bright and cheap eyeshadow, this palette is a really good choice. I reccomend it a lot more than 120 palette. I really liked it.
Jeżeli szukacie żarówiastych, intensywnych cieni i mają być jednocześnie tanie, to polecam tę paletę. Jest lepsza niż paleta 120 kolorów i naprawdę, bardzo mi przypadła do gustu.